The Trusted Choice for Turnkey IT Services in Flint and Mid-Michigan
---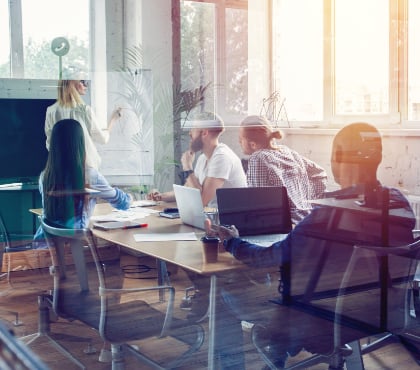 Our expertise was developed over 23 years in the IT industry.
At Symplex, it isn't just about providing our services - it's about becoming an extension of our clients' businesses and helping them find the success that they've always been looking to find. You see, IT holds tremendous power; networks are powerful connections that can help drive operational efficiency, security helps to protect your information, as well as that of your customers and clients, and the support infrastructure that your customers depend on is what helps to bring you closer to their needs. For our entire team here at Symplex IT Consulting, we're focused on ensuring that you accomplish all of the above, and then some.
Built on the extensive expertise of our team, we've spent over 23 years working in the IT industry, and we've helped businesses across industries achieve the success that they seek throughout mid-Michigan, including Flint, Saginaw, Birch Run, Grand Blanc, Lapeer, and the surrounding region. Today, we're proud of where our experience has taken us because it has made us stronger, more agile, and strategically positioned to adapt to the changing needs of our clients as the marketplace continues to evolve, expand, and present businesses with new challenges with the passing of every year.
---
It's All About Building Relationships
We know we say it a lot, but it's so true – for us, nothing is more important than becoming an extension of our clients' businesses. You see, relationships are what make the world go 'round. It's all about collaboration, communication, presenting and sharing new ideas, and workshopping through various solutions together, so that we can arrive at the right solution for each client. With 24/7 service by trusted IT professionals, you can kiss the call center goodbye and get real help when you need it.
When you choose to work with Symplex, you instantly gain the opportunity to experience our relationship-based approach that serves as the very core foundation of everything that we do. From network design to installation and even maintenance and monitoring, we'll proudly serve as an extension of your business and ensure that your best interests are protected.
Why Partner With Symplex-IT Consulting
Our team works with you for a customized IT solution
Gain the support of Security+, CISSP, Microsoft, & VMware-certified technicians
23 years of experience solving the world of IT's problems.
You'll work with a single engineer who will learn the ins and outs of your business needs.
24/7 support
100% compliance
Our dedicated engineers will work with you to understand your business needs, identify room for growth, improvement, or innovation, and will remain by your side every step of the way, from network design to installation, so that you can remain confident in your solutions and work to integrate them into your workflow seamlessly.
Certified IT technicians are always standing on call to answer your questions – and because we're always focused on building relationships, they're here to answer your questions with solutions that work for your business.
Remember, in today's world, problems don't end when the business day ends – 24/7 support is what we're here for.
---
Our Mission
At Symplex IT Consulting, our mission is simple – we're always looking to ensure that our clients are using IT, digital technology, and advanced security systems to their advantage. In this day and age, technology doesn't have to be difficult, but for so many businesses, it ends up hurting more than it helps. For us, we're focused on simplifying the process for our clients through comprehensive and turnkey IT solutions, so that they can get the most out of their technology and bring their businesses to new heights.
---
Our Vision
We like to envision ourselves as more than just IT consultants – in our mind, we're truly proud to serve as an extension of your business. In today's world, cookie-cutter solutions aren't solutions – they're band-aids and generic services that don't help to heal a problem. At Symplex, we're constantly focused on providing real solutions that make a difference for our clients, and the only way to do that is to get to know them, their businesses, their products and services, and their teams as if we have been working together all along.
---